Jigsaw Puzzle Brands & Manufacturers Comparison
Those of us who love puzzles know that there are a lot of different jigsaw puzzle brands and manufacturers out there – and not all are created equal!
Some brands are very high quality, while other brands are cheaply made and due to their poor construction can sometimes be frustrating to puzzle lovers everywhere.
If you have not yet bought a puzzle from some of the top rated jigsaw puzzle brands, you are definitely in for a treat.
The best jigsaw puzzle companies have perfectly cut pieces that fit together smoothly, don't have a lot of puzzle dust in the box, and feature crisp artwork with the perfect finish that makes it easy to see the colors and details on each individual piece.
So what are the best puzzle brands? Whether you are looking to treat yourself or give a special gift to your favorite puzzler, this post will hopefully help you find the perfect thing!
---
Considerations for What Makes a Truly Great Puzzle
So what makes a great puzzle? Well, this will vary from person to person – however most of us will agree we like pieces that fit together easily!
Puzzle Quality:
One of the most frustrating things when working with a puzzle is when pieces bend easily or do not really fit together well.
The cause of this is often due to the type of chipboard used for the puzzle backs.
If this chipboard is too thin, pieces will bend and tear very easily, making it difficult to complete the puzzle because they will not fit together well.
Sometimes the paper that the images are printed on will also separate from the chipboard – this is known as puzzle lift. The best puzzles have minimal puzzle lift.
Image & Artwork:
Most puzzles have interesting images and artwork, however some puzzle brands have truly outstanding artists with distinct styles.
Most modern puzzles today have a decent print quality – but some puzzles have truly outstanding print quality!
Some puzzles I have noticed have a blurry print – as if the image was resized at a lower resolution or with less colors. This is typically true for low-end priced puzzles such as the ones at dollar stores.
Puzzle Finish and Glare:
Another thing that can make or break a puzzle is the type of finish on the pieces. The best puzzles will not have any glare or gloss.
These are puzzles that don't reflect the light too much when you are working on them, making it easy to see the details on each piece as you work on it.
High glossy puzzles with a lot of shine can sometimes even be painful to put together. Some puzzles even have a textured/linen finish, which make it appear more like a canvas when the puzzle is completed.
Puzzle Box & Extras:
I am slightly spoiled in my puzzling these past few years by puzzle manufacturers who include a poster in the box of the completed puzzle.
While I don't always use these as a reference image, they sure do come in handy when you are working a 1,000 piece jigsaw and have multiple areas that are similar to take a closer look at some spots!
I also really have come to love sturdy boxes that are easy to stack and store and stay together tightly! This makes it very easy to do puzzle swaps or to even sell the puzzles after you have completed them.
---
Now that we've talked about the features that I believe truly make an outstanding quality puzzle, let's talk about how I rated each of the puzzle brands and manufacturers in this list!
---
How I Rated the Jigsaw Puzzle Brands and Manufacturers
As a crazy puzzle lady, I only rate and review puzzles that I have personally put together and inspected. I do not think it is fair to give a puzzle a review or rating if it is not a company I have much experience with.
The good news? I have done A LOT of puzzles, and have experience with all of the top puzzle brand manufacturers.
Some brands I absolutely love and adore, while others often make me cringe. Some puzzle companies are hit and miss, depending on the year the puzzle was manufactured.
A puzzle from 1995 by the same company may NOT be the same puzzle quality as one from 2015!
This is very important to keep in mind when buying used puzzles or vintage puzzles. Many brands change their production process over the years – some brands even change ownership or merge with other toy and game manufacturers.
I will note any specific details or considerations with each puzzle brand summary below.
---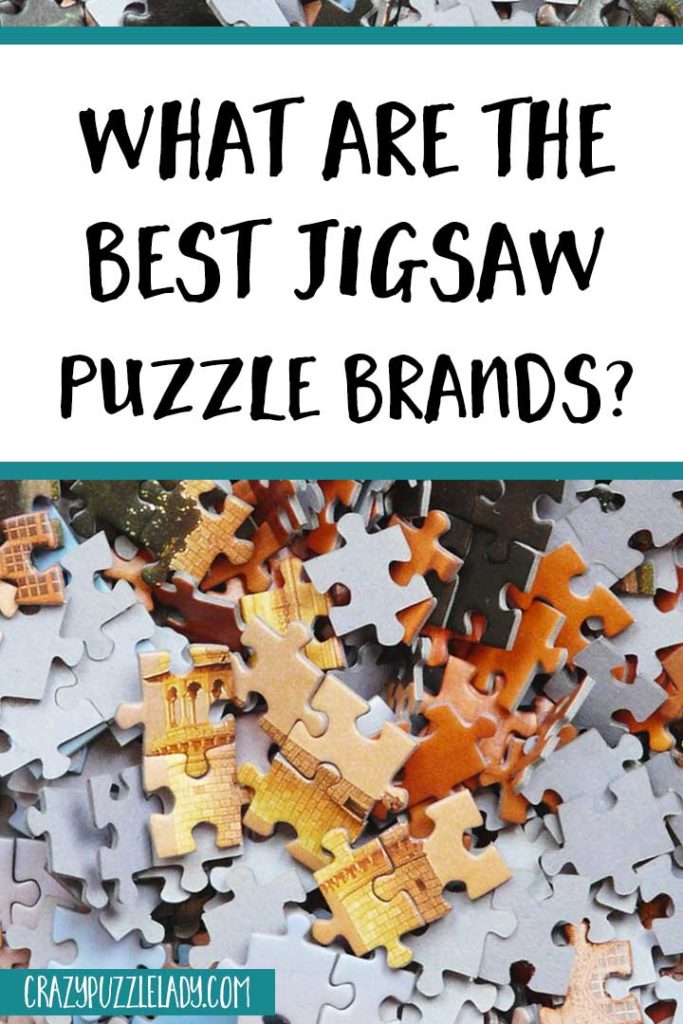 Puzzle Brand Comparison: The Best, The Good, and The Not-So-Premium Puzzles
Now that we've gone over all of the considerations for this review and brand comparison, we're ready to see which puzzle companies really perform and outshine the rest!
I decided to categorize all of the puzzle manufacturers into three categories: The premium, the good, and the not-so-premium puzzles.
Note: "Not so premium" is one of my favorite lines from the movie Everything is Illuminated, and honestly, there is really no such thing as a bad puzzle, especially if you consider the "not-so-premium" puzzles are definitely the most economic choices. If it's all that is in your budget, you should not feel ashamed for enjoying one!
All puzzles offer some challenge and entertainment, so while we may become more and more spoiled the more puzzle brands we try – any puzzle is better than no puzzle at all!
Premium Puzzle Brands:
Good Puzzle Brands:
Economy "Not-So-Premium" Puzzle Brands:
---
List of Manufacturer Puzzle Brands
Ravensburger
Ravensburger is one of the premium puzzle manufacturers based out of Germany. While they do come with a premium price, they are a high quality puzzle manufacturer you can trust that even the most avid and pickiest of Puzzle lovers will enjoy.
Their puzzle pieces are typically very thick and sturdy, with minimal puzzle lift or puzzle dust in the box. You can read our full review of Ravensburger puzzles here.
---
Springbok
I only learned about Springbok a few years ago, but they have been manufacturing puzzles for quite some time. I was most impressed by the high quality of the pieces, especially for a reasonable price.
Their pieces are typically of very good quality, and they also offer a wide variety of styles, shapes, and sizes for nearly any age or skill level.
---
Heye Puzzles
Heye puzzles come in a very unique shaped triangular box, but don't worry – they also typically include a print of the image for easier reference while assembling the puzzle.
The company produces a limited quantity each year featuring different artists, and while they are in the higher price range for puzzles, they are a great treat for avid puzzle lovers.
---
Cobble Hill Puzzles
I first tried Cobble Hill Puzzles in 2012, and noticed they are very unique compared to some of the other puzzle brands I've tried.
Their pieces are typically high quality with a matte linen finish, although there have been times where I've noticed some pieces had scratches as if the paint was lifting off.
Not everybody will love the unique puzzle shapes, and some puzzles can truly be very challenging. My husband and I did the Santa's Workshop puzzle and found it maddening.
I really like their family sized jigsaw puzzles that combine both large and small pieces – these are perfect for holiday gatherings and doing puzzles with the kids.
My recommendation is to try one and see if you like it. You will either be a fan for life or you will find a few other puzzle companies that match more of your style.
---
Buffalo Games Puzzles
I like to think of Buffalo Games puzzles as that perfect compromise between quality and price. They are definitely economical, but for an economical choice the quality is certainly better than some of the others in the same price range.
They are also very consistent – I've done many, many Buffalo Games puzzles and I have been pleased that they always meet my expectations.
My favorite thing about Buffalo Games puzzles is that they always come with a reference picture. This is so much easier to use than trying to squint at a tiny box!
The pieces are relatively sturdy and usually snap together pretty easily and securely. I haven't had too many problems with damaged pieces or puzzle lift, and the amount of puzzle dust in the box is typically minimal.
The glare with these puzzles can sometimes be challenging, so the right puzzle lighting can make all the difference in how much you enjoy them.
I especially love Buffalo Games Charles Wysocki Puzzles, but they've recently introduced a number of other artists I enjoy.
---
SunsOut Puzzles
I tried my first Sunsout Puzzle a few years ago, choosing this beautiful enchanted library puzzle as one to try.
I was slightly disappointed with the piece quality, as they weren't super thick and it was sometimes challenging to determine whether pieces actually fit together or not.
They are not my absolute favorite puzzle brand, but I do enjoy them enough that I would definitely consider buying SunsOut if the artwork or price was enticing. They have a lot of uniquely shaped puzzles other manufacturers do not produce and I love that as a challenge.
---
White Mountain Puzzles
White Mountain puzzles can sometimes be hit or miss. I've done some of their puzzles that are absolutely wonderful, but then I've also had some where the puzzle piece quality left a lot to be desired.
I do like a lot of their artwork, and I think for me that can sometimes make up for pieces that aren't always completely snug or super thick. They are also a fairly economical choice, so that is always something to consider.
All in all, they are in the same group as Buffalo Games and SunsOut Puzzles – if I like the artwork enough and the price is right, I'm willing to accept less-than-premium piece quality.
---
Eurographics Puzzles
I bought my first two Eurographics puzzles last Christmas. The piece quality was relatively sturdy, but I wasn't a huge fan of pieces that were almost identical in every way – there were only 2-3 basic puzzle shapes!
That being said, I do think they are decent quality, especially if glare seems to be an issue for you. I also know that some people actually prefer the very basic puzzle piece shapes, so if that sounds like you Eurographics is a decent viable option.
I really enjoy their unique scenes and artists, so that alone for me is enough reason to keep Eurographics puzzles on my radar!
---
Master Pieces
Master Pieces for me falls into that economical not-so-premium puzzle manufacturer category, but like I said earlier – there really is no such thing as a bad puzzle, some are just nicer than others.
To be fair, it has also been several years since I did a Master Pieces puzzle, so it could be manufacturing and artwork quality has caught up to the more modern standards of what is expected in a puzzle.
I've gotten some of their puzzles with damaged and missing pieces before, so I haven't exactly experienced consistent quality either.
---
Ceaco
Ceaco has the benefit of the licensing of Thomas Kinkade artwork, but quality leaves a lot to be desired.
I've found their pieces are very thin and very prone to puzzle lift. While I absolutely love and adore the artwork of Thomas Kinkade, unfortunately they do not do the artist justice, because the print resolution is also frequently blurry or even pixelated.
The glare on these puzzles can also sometimes be absolutely unbearable, even if you do have the best lighting.
I would do a Ceaco puzzle if I had no other puzzles to choose from, but they are really not a great puzzle brand if you're looking to really treat and delight an avid puzzler.
---
---
What Are Your Favorite Puzzle Brands and Manufacturers?
I know I have barely even scratched the surface of all the puzzle brands and manufacturers out there – but hopefully this list will at least give you a great start on some of the different ones to look for, especially if your goal is to find a high quality puzzle or some beautiful and unique artwork.
If you know of a brand I should try, please tell me in the comments section below! I'm always excited to check out new puzzle companies, artists, & types of puzzles!