Halloween Jigsaw Puzzles We Love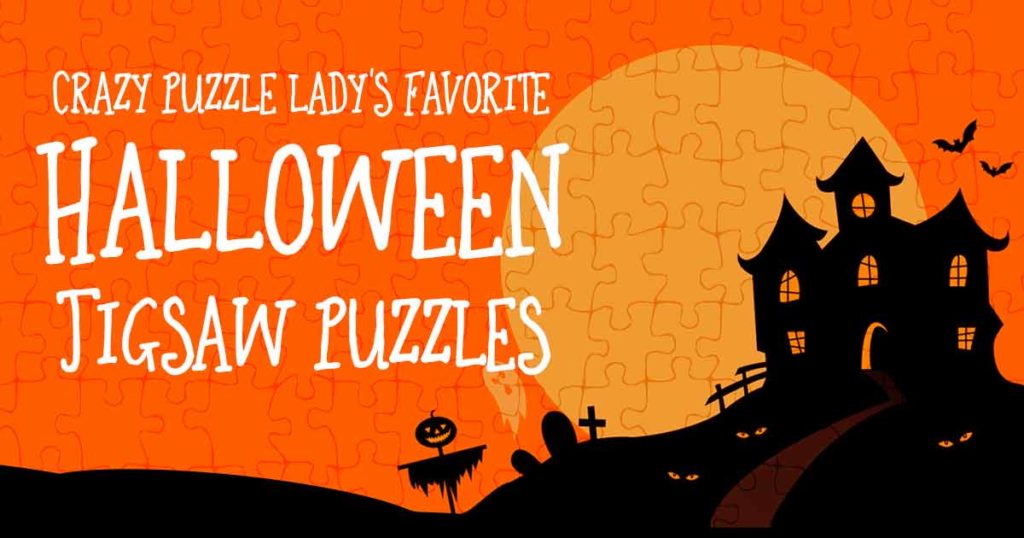 Are you looking for a fun Halloween jigsaw puzzle to do this fall? Today my husband and I were looking for a new one to put together for October and I found so many good ones!
While it's easy to think about jigsaw puzzles in the winter months around the holidays, there's no reason to wait until Christmas.
There's plenty of great jigsaw puzzles perfect for any day in October, especially as the weather starts to cool down and the daylight hours start to shrink.
As our kids get older and older each year, my husband and I are also starting to realize pretty soon we won't even be able to go trick-or-treating anymore – doing a puzzle is a great tradition to start if your October 31sts are starting to feel like any other ordinary day.
These Halloween jigsaw puzzles would also make for a great gift for your friends, especially if they love to celebrate Halloween all year round!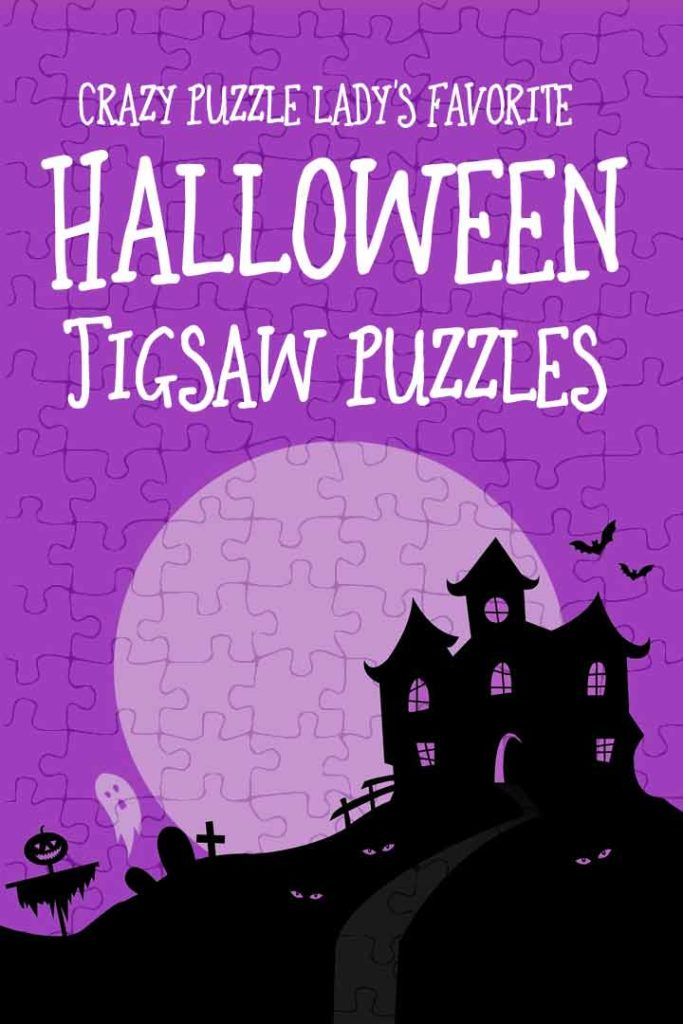 Haunted House Jigsaw Puzzles
If you're looking for a Halloween puzzle you're sure to find a good one in this list! As always, I try to stick with the jigsaw puzzle manufacturers I love and trust to buy myself.
I love old Victorian houses, cityscapes and houses all decorated up for Halloween, so I decided to look first at all the different haunted house Halloween puzzles.
Trick or Treat Hotel is a classic Charles Wysocki puzzle by Buffalo Games. If you love all the other folk art puzzle paintings by Wysocki, this is definitely one to add to the collection.
This puzzle features 1,000 pieces and like most Buffalo Games Puzzles includes a poster image for reference and friendly for your budget. It's sure to be a treat, no tricks!
---
Halloween House is a 1,000 piece jigsaw by White Mountain Puzzles. At first glance it appears to be cute, but if you look a little closer at the photo you'll notice there are all sorts of kind of creepy details.
I love the idea of an interior view of a haunted house – and of course I have to wonder what the witch might be cooking up in the kitchen!
---
Uninvited Guest sounds like the perfect title for this formidable looking puzzle by SunsOut. Dark gray skies and clouds loom overhead, and it's pretty clear whoever comes to this house is very much NOT welcome to enter.
This puzzle is only 500 pieces, which makes it the perfect puzzle to complete over a weekend or put together in the evenings throughout the week in October.
---
Witch Halloween Puzzles
While I love Haunted Houses, another Halloween theme I really like are witches! I am a crazy puzzle lady though, so that shouldn't be too surprising!
This Halloween jigsaw puzzle is too cute! Three Little Witches features the artwork of artist Bonnie White. This puzzle is 1,000 pieces and is manufactured by Master Pieces.
If you love folk art puzzles, this one features all the necessary cute and whimsy, from adorable little ghosts flying about to dogs and witches and a rather haunted looking house.
---
Ravensburger is well-known for high quality puzzles and The Witches Kitchen Escape Room Puzzle brings an interactive component to this 759 piece puzzle that would make it a very fun puzzle to do at a Halloween party with friends.
If you haven't yet tried an escape room puzzle, these puzzles come with a story that gives you clues as you assemble the puzzle pieces. One very interesting thing is the final puzzle is slightly different than the box.
---
Spooky Jigsaw Puzzles
Skeleton's Stew Puzzle is by Vermont Christmas company and features a nice image of a skeleton cooking up dinner. I liked this puzzle because my hubby and I have been teasing our kids with a bunch of skeleton jokes lately.
This puzzle is only 550 pieces, so it'd be a great one for our family to do together in October when schedules can be tight between activities and other events.
---
Step into this 1,000 piece puzzle called Mystic Realm by Springbok and you'll find all sorts of interesting and mysterious things on the bookshelf, from a witch hat to skeleton bones.
---
Halloween Puzzles for Kids
Lastly, and certainly not leastly, I wanted to share a couple of my favorite Halloween puzzles I found for kids.
This Scaredy Cat 300 Piece Puzzle by SunsOut is too cute! It features two adorable fluffy black cats and a jack-o-lantern. 300 Pieces is a good number of pieces for the whole family to enjoy together!
---
The Halloween House Cat puzzle by Vermont Christmas Company is only 100 pieces, making it a perfect choice for older kids who might enjoy a challenge.
---
Okay, so maybe you don't need 36 puzzles, but have you ever thought about handing out puzzles to trick or treaters instead of candy? That's immediately what I thought when I saw this set of 36 puzzles for kids – how fun would that be?
If you have kids in school who might need non-food treats, want to give out unique party favors to your friends or you want to have some nice options for your trick or treaters who might have food allergies, these puzzles would be perfect!
---
I hope you enjoy this round-up of all of my favorite Halloween puzzles and of course I will continue to update this list as I learn about new ones!
I still haven't decided on which puzzle I want to buy this year for Halloween – I want them all! Which Halloween Puzzle is your favorite? Tell me in the comments section below!