October marks the official "puzzling season" here at our house, and so of course we needed a new Halloween jigsaw puzzle to try! We decided to try out the Ghostly Gathering 1000 Piece Jigsaw Puzzle by Vermont Christmas Company and had a lot of fun putting it together!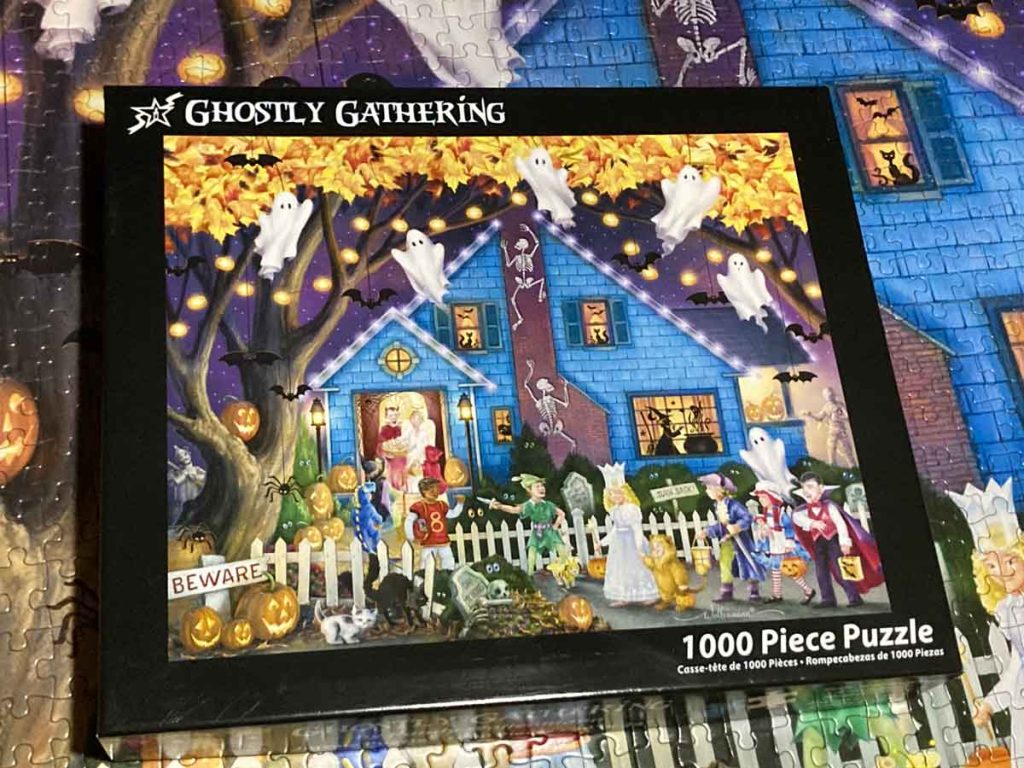 This is the first puzzle I've ever done by Vermont Christmas Company and I was quite happy with the quality of the puzzle. Pieces are sturdy and lock together well, the colors of the pieces are true to the image on the box and there was ZERO puzzle dust in the box!
The artwork of the puzzle is done by artist Randy Wollenmann who has quite the gallery of fantastic art. While this puzzle isn't "new" by any means (it was released in 2016) -I'm glad that it is still in production even after all these years because it really is a great puzzle for puzzlers of all levels!
This is a rather large puzzle at 30×24 inches, but the big size definitely means bigger pieces which makes it much easier to put together.
Vermont Christmas Company Ghostly Gathering Halloween Jigsaw Puzzle 1000 Piece
4 new from $17.95
Free shipping
as of March 18, 2023 3:51 am
The puzzle piece shapes are the standard 6 different shapes, no crazy cuts here like a Springbok or Cobble Hill puzzle nor are they all identical in the case of Eurographics puzzles. I find puzzles cut like this one are generally nice and easy to put together.
If you are someone who likes very challenging puzzles, this puzzle is probably not for you – we were able to finish it in just a few evenings and there really weren't any parts where we got stuck. I like it that way! But I know many people prefer something a bit more difficult.
I think the big puzzle pieces make this a great puzzle to do with the whole family if you can get the kids interested in doing them with you. (My kids have all hit the teenage years so they are not too enthusiastic to do puzzles with mom + dad!)
Another thing I liked about this puzzle is that the pieces are not super glossy. I always purposely take images of the puzzles I do on my dining room table with its harsh overhead lights so you can see the glare on them.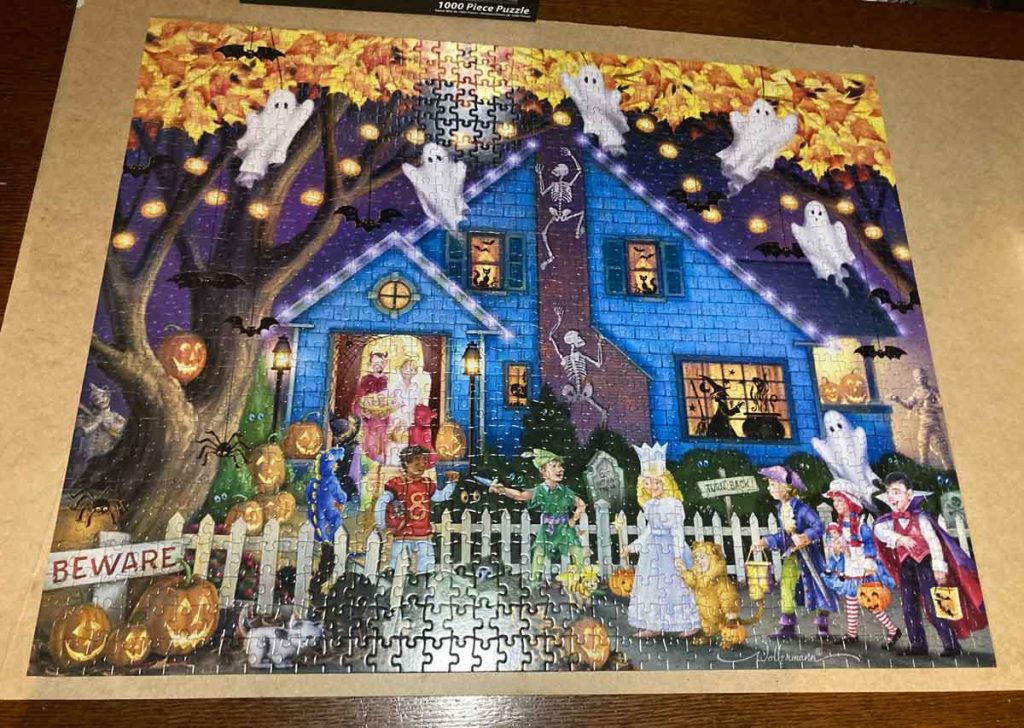 I will never understand why puzzle manufacturers use a glossy finish instead of a matte finish (the pieces are cardboard – the extra glossiness does not really make a big difference on the longevity of a puzzle!) – but I was happy that these pieces weren't too terribly reflective – super glossy pieces can be hard to see depending on your lighting.
All in all, I think the Ghostly Gathering Puzzle by Vermont Christmas company is a great puzzle and I will definitely be buying more of their puzzles in the future! I was very happy with the quality of the puzzle.
Looking for more Halloween Jigsaw puzzles? Check out my post here: Halloween Jigsaw Puzzles We Love.
Vermont Christmas Company Ghostly Gathering Halloween Jigsaw Puzzle 1000 Piece
4 new from $17.95
Free shipping
as of March 18, 2023 3:51 am
Have you done this puzzle? Did you like it? Any other Halloween Jigsaw Puzzles you would like us to review! I'd love to hear from you in the comments below!