Jigsaw Puzzle Strategy: How to Put Together Puzzles Quickly and Easily
It seems easy enough, to figure out how to put together a jigsaw puzzle. Open the box, sort out the pieces, and start putting them in place. Simple, right?
Of course, there are a LOT of things that can help to make doing puzzles a lot more fun and enjoyable. Today I thought it might be fun to share some of my favorite jigsaw puzzle tips for solving puzzles!
When it comes to putting together jigsaw puzzles, you'll find almost every avid puzzle lover has their own method and a jigsaw puzzle strategy they like to use.
While I don't think there's a "right way" or a "wrong way" to learn how to put together a puzzle, there are some things I think that do help make the process all the more fun and enjoyable.
If you are frustrated and the pieces aren't clicking together and you've been staring at puzzle pieces for days on end without much progress – that can ruin a lot of the fun!
Today, I thought I would share my strategy for how to put together a jigsaw puzzle and what I suggest for making it a fun activity for all to enjoy.
Many times when people claim they can't do puzzles or they don't enjoy them, I've found it's often just a matter of attempting to do a puzzle that is low quality, too challenging for their level of experience, or simply not having a good technique!
Like All Things, Putting Together Jigsaw Puzzles Gets Easier and More Fun With Practice and Experience
The more puzzles you do, the easier it gets to put them together – especially as you practice more and start to develop techniques that make it a lot easier to put puzzle pieces together.
For most people, it's best to start with easier puzzles that are somewhere between the 200-500 piece range.
These are good puzzles to begin with, because they often have larger sized pieces and they are not as challenging so don't require nearly as much patience!
Once you master these easier puzzles, then of course you are ready to start on more challenging puzzles – ones with more intricate design details or a higher piece count.
Fortunately, there are puzzles for almost every skill level and ability out there!
This Crazy Puzzle Lady Has 32 Years of Experience Putting Together Jigsaws
I like to think myself as being "classically trained in the art of jigsaw puzzle solving" by my grandmother and mother, who definitely had their system for solving puzzles down to a science.
I was taught early on at a very young age all of their tips and tricks for getting 2000 pieces of cardboard to all fit together to complete a nice picture.
I spent a lot of time at my grandma's house as a kid – and my grandma always had a puzzle on her family room dining table!
While there were plenty of kids puzzles with 25-50 pieces for me to do, the real joy for me was to start working on the real puzzles – these were puzzles my grandma often had that would have anywhere from 1,000 to 5,000 teeny tiny pieces.
That love for the "real puzzles" still has not changed – I know it's just a matter of time of having enough free space before I tackle one of the world's largest puzzles!
Since I started over 30 years ago, I've had a lot of opportunities to do puzzles with many different types of people of all ages and skill level and in a lot of different environments.
This diverse background also helps me understand different ways to complete a puzzle in great depth, because it helps me understand special needs and considerations to make puzzle solving accessible for everyone.
---
Tools of the Trade: Things That Make Putting Together Puzzles Easier and More Enjoyable
The biggest thing that can make doing puzzles a lot easier is having a good system down for sorting pieces together.
Admittedly, sorting the pieces in the beginning is one of my least favorite tasks – but taking 10 to 15 minutes to do this properly at the beginning makes the puzzle a lot easier and more fun to complete!
If you do not already have puzzle piece sorting trays, there are a lot of really good options to consider. If you really want to "up your puzzle game", you will really love the Jigthings Puzzle Sorting Boxes.
When I first started looking into puzzle boxes, my first thought was that these sorting trays from Jigthings were merely glorified – and somewhat pricey – gift boxes. However, the time they have saved me has made a really big difference!
They truly are a high quality chipboard, similar to book binding board – and the way they perfectly stack inside each other, with a lid – makes them perfect to use, especially if you have pets who might try to get into different pieces and sections.
JIGSAFE - Jigsaw Puzzle Storage
as of November 29, 2023 10:22 pm
Features
Ingenious way to keep up to 1,000 unassembled jigsaw pieces safe, neat and tidy
Seven, heavy duty, coloured, cardboard boxes each with a take-out cardboard sheet
Boxes stack whilst in use to make it easy to access the pieces
Boxes nest together (complete with jigsaw pieces) for convenient storage
Pop on the lid and every single piece will be kept safe until the puzzle is needed again
They also have a piece of cardboard that lifts out from the bottom of the box – making these ideal to complete smaller sections at a time and then move them easily to put in place.
These jigthings types of trays really do save a LOT of grief of putting together puzzles!
They also make for a great gift for people who love puzzles, because many people are too stubborn to buy it for themselves – but they will most definitely appreciate it once they start using them!
Last updated on November 29, 2023 10:22 pm
Of course, if that is not in your budget, you can always go the DIY route and make your own puzzle sorting trays.
We've used bowls, plates and gift tins from around the house. It's not nearly as neat or organized that way but does work for sorting pieces.
---
Good Lighting is Also a Must
Another thing that I've found is that good lighting is also a must and worthwhile to invest in – not just for doing puzzles but for any type of indoor activity where you might need a good light!
I do the most puzzles in the winter time. We live in the North, which means in winter natural daylight is limited these times of the year. A good puzzle light makes it easy and fun to finish these puzzles without any strain on the eyes.
There are a lot of different puzzle lamps and types of lighting that work well.
I find that non-direct lights with adjustable dimmers and can be bent for different environments are some of the most flexible choices.
I especially like these when working on not so premium quality brand puzzles that may have a lot of glare and shine from lights.
Brightech LightView Pro LED Magnifying Floor Lamp
6 used from $82.34
Free shipping
as of November 29, 2023 10:22 pm
Features
Hands-Free Magnifying Glasses With Light For Close Work - The flexible 17" gooseneck bends to point the magnifier and light where you need it. The extra-wide rectangular lens brings a full page of a book into view, this work light being hands-free allows you to use both hands to read, perform professional tasks or enjoy crafts and hobbies. This magnifying glass features 2.25X magnification with things in focus at a distance of 8 inches.
Adjustable Magnifying Floor Lamp With Flexible Gooseneck: The glass lens can be adjusted up and down, you can keep the magnifying glasses with light for close work at any angle, freeing you both hands. Suitable for repairing electronics, soldering, crocheting, painting, jewelry, facial, manicure, puzzles, etc.
20 Year Life LED Lights For Max Durability - The 6.5" x 4" lens is genuine diopter glass, so the lens doesn't warp with time or heat, and is also scratch-resistant. So it lasts longer than cheap acrylic/plastic lenses that warp in heat and scratch easily, requiring replacements in little time. The 9W, 540 lumens LED lights are built in and last 20,000 hours - about 20 years if you use this magnifying floor lamp for 3 hours every single day!
Magnifying Floor Lamp For Macular Degeneration & Aging Eyes: Multiple testimonials from those with macular degeneration and from aging customers show that older eyes need extra light & magnification, to see details and full contrast. From reading fine print on pill bottles to seeing individual threads in a sewing project, small color nuances in a puzzle or fiddly jewelry clasps, countless activities require light and magnification. Our magnifying floor lamp provides this and more.
Brightech's 3-Year Warranty: Our magnifying lamps are built to last, and we stand behind that. That's why we offer an industry-leading 3-year limited warranty that includes any defects, malfunctions, or sudden failures to your floor lamp. If you experience any trouble with this magnifying lamp, don't hesitate to reach out to our all-star customer support team for help.
I use a daylight gooseneck craft/reading lamp like this full spectrum lamp – this is a great light that makes it very easy to see the details and colors on each piece without too many issues with glare or lighting problems.
Lighting is an often overlooked important factor for doing your puzzles – having the right lights can make a world of difference!
Now that we understand some of the things that makes the work of putting together a puzzle a lot easier and more fun, we are ready to understand the basic strategy of putting together a puzzle.
---
How to Put Together a Jigsaw Puzzle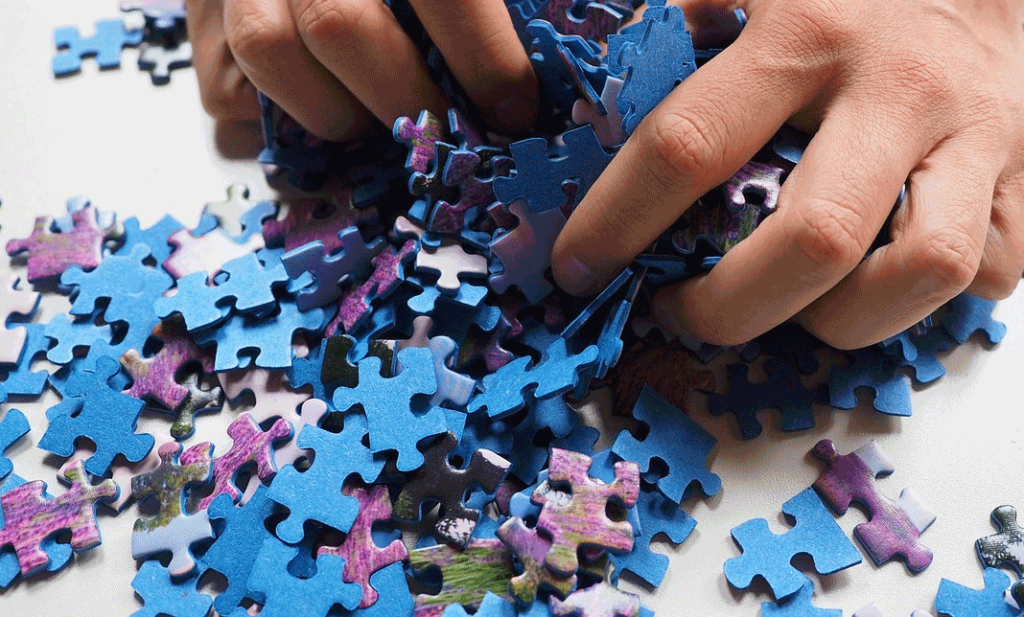 There are essentially 6 steps for putting together a jigsaw puzzle – and the most important steps are the ones you do before you even the open the puzzle box!
Choosing the right type of puzzle and having your work space prepared ahead of time can make a big difference not only in your progress, but also how comfortable you are during the process.
Step 1: Choosing the Puzzle to Work On
I know this may seem obvious, but it's very important that you ensure the type of puzzle you choose is an appropriate difficulty level for every person who will be working on putting it together.
For example, if you haven't done a puzzle in a few years, you are likely going to be a lot happier with a 300 or 500 piece puzzle to get back in the groove compared to a 2000 or 5000 piece one.
You can always start small and go to more challenging puzzles – but sometimes a puzzle that is too challenging might make you angry or frustrated.
If a puzzle is too hard, it's OK to give up on it – you can always trade it with someone or sell it and get something a little easier.
There are so many benefits of doing jigsaw puzzles! You shouldn't give up on puzzles all together just because you don't like the very complicated ones or ones with too small of pieces!
Another consideration is if you have kids working with you – you definitely want to make sure the brand of the puzzle is one that has pieces that match and lock together well and are a good size for their smaller hands.
Step 2: Preparing Your Work Space
As I mentioned earlier, there are some good tools of the trade to make puzzle solving a lot easier!
Preparing your workspace ahead of time is another extremely important step.
Ideally, the place where you work on the puzzle should not be in a high traffic area – otherwise you risk the possibility of others accidentally knocking pieces over or bumping into the table.
JIGTABLE Jigsaw puzzle table from JigThings
as of November 29, 2023 10:22 pm
Features
The most relaxing way to do jigsaw puzzles. The table-top can be adjusted to different angles, so that you don't have to lower your head - puzzling needn't be a pain in the neck! When you complete the puzzle, your board can easily be lifted away from the table.
The table top measures 31 inches x 21 inches, which is suitable for the Jigboards from the 500 to the 2000. The height of the table is adjustable between 27 inches x 33 inches, which allows you sit comfortably to complete a huge number of jigsaw puzzles. The base of the table needs a 3 inch clearance to fit under bed or sofa.
Designed to be used with a removable Jigboard. The Jigboard sizes available are 500 Piece, 1000 piece, 1500 piece and to 2000 Pieces. These portable puzzle boards can be purchased separately.
The base area is 32 inches x 23 inches and the order comes complete with 4 castors - one for each corner. Two of which can lock the table in place to stop it moving away from you. The table can span any armchair up to 29 inches wide.
The table top has an attractive laminate beech effect which is easy to wipe clean, and the table can be used for many other purposes such as reading, writing, playing cards, eating and anything else you can think of!
The table should be smooth and clean if possible. If you don't have a dedicated puzzle table, it can be a good idea to invest in a jigsaw puzzle board.
A jigsaw mat like this one is another good option to explore, especially if you like to be able to easily transport your puzzles from one room to another.
Choose comfortable chairs for sitting in, or consider getting a puzzle table that can be easily moved and adjusted depending on your needs.
You don't have to sit in an uncomfortable chair to do a puzzle!
If you plan on gluing the puzzle together after completed, you might want to protect the surface of the table before assembling the pieces.
This can be done either by using foam board or a clear plastic protective table cover that will make sure if any of the puzzle glue drips or leaks it will not damage your work surface.
It's sometimes also helpful to use a puzzle board or mat – this way pieces will stay put – and if you need to store away the puzzle later it's easy to move.
Step 3: Pre-sort & Staying Organized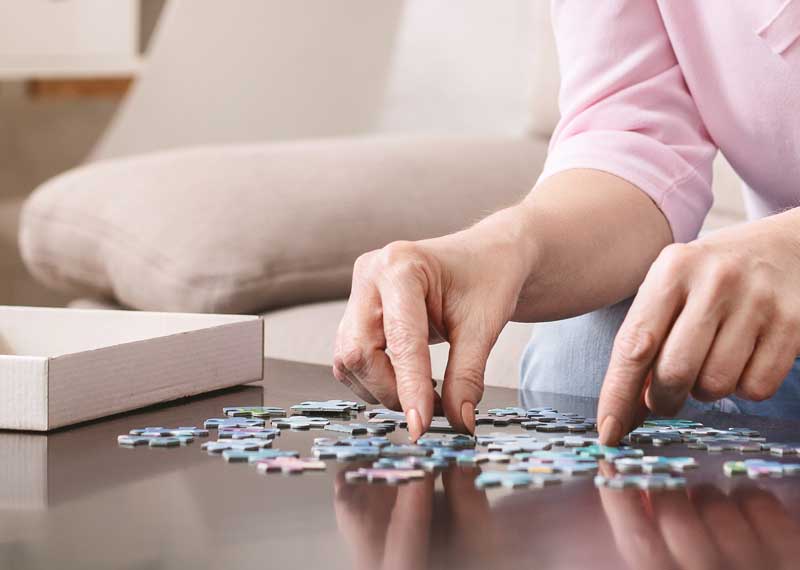 The level of organization required for assembling your puzzle will greatly depend on the number of pieces and the overall difficulty of the puzzle.
Puzzles which have 1000 pieces or more will definitely be much easier to put together if you have some sort of organizational system in place, such as using storage trays to sort by color or section.
One thing we will often do before beginning is look at the picture of the puzzle on the box and identify key areas that will likely stand out as puzzle pieces. These can be contrasting colors or other distinguishing parts of the photo.
Next, we work on flipping all of the pieces right-side up and while doing this, pull out the edge pieces as well as any pieces of interest that may be useful to have later.
While there are various methods for doing this, we've found using multiple shallow trays such as these puzzle sorting boxes are a good way to keep all the pieces right-side up without overlap.
Last updated on November 29, 2023 10:22 pm
Step 5: Putting it Together
Starting with the edge pieces is a common strategy for putting together a puzzle, because this will help give you a good reference for where the other middle pieces will go in relationship to the border of the puzzle.
Working on smaller sections at a time can be helpful as well. If working with several people to assemble a puzzle, designate an area for each person so that when you find a piece that might belong somewhere else, you can toss it their way – it may just be the piece they need to bring it all together!
In general, I tend to work on the "easiest" sections first, as this gives you more progress quickly. Saving the most challenging sections for the end will keep you determined to finish when most of the puzzle is already near completion.
Remember: If you at any time start feeling frustrated or tired – it"s OK to take a break from the puzzle! Simply cover it or let it sit for a little while and come back to it at a later time – it makes a HUGE difference and all of a sudden pieces will start coming together much easier!
Once these easier sections are completed, it starts to become much easier to focus on the more difficult or detailed parts. Often times, the focal point sections make it less challenging to start figuring out where the other pieces might go.
Keep working on it until you've completed the major sections of the image, and then start filling in any areas until it's all put together.
Step 6: Congratulate Yourself When It is Finished!
The most rewarding part of putting together a puzzle is when that last piece snaps into place! Sit back and admire your work!
At this point, if you are planning to glue the puzzle together, you may do so using one of the puzzle glues and directions recommended by the puzzle glue manufacturer.
If you would like to save the puzzle to do again at a later time or to swap with a friend who also loves puzzles, very carefully ensure all pieces are accounted for – check every nook and cranny of the table area and the floor where pieces may drop.
I recommend keeping puzzle pieces in a zip-lock type of plastic bag or plastic case after opening, as the pieces may fall out of a traditional puzzle box when not sealed properly, and tape can lose its stickiness over time or cause damage to the box.
Once you've finished this puzzle, you're ready to enjoy another one! You can choose whether to do another one you have been eyeing up, or maybe even challenge yourself to a more difficult puzzle.
The more you practice putting together puzzles, the more exciting the challenging puzzles become!
---
What Tips & Tricks Do You Have for Putting Together Jigsaw Puzzles?
Do you have any tips for putting together a jigsaw puzzle you would like to share? We'd love to hear about your jigsaw puzzle strategy and any tips for staying organized in the comments below!